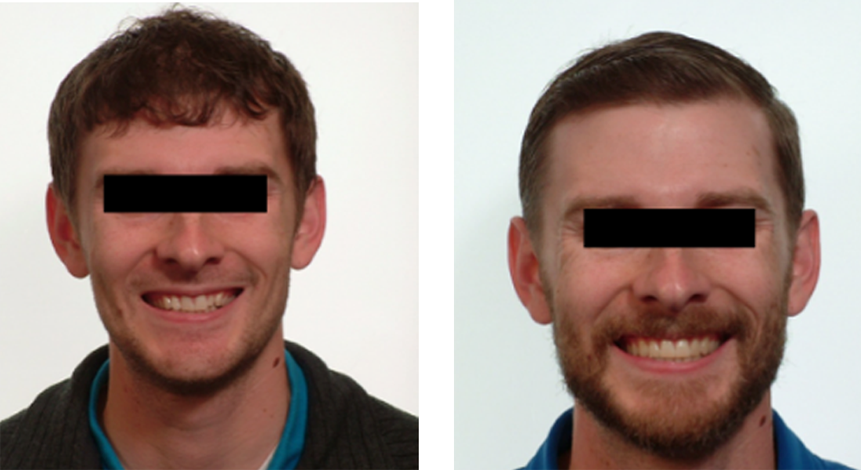 At Aligner Concierge, we strive to achieve the best clinical outcomes by following a simple evidence-based approach. In the below case we demonstrate how making minor adjustments can eventually enhance the proposed outcome. This case was submitted with the objective to correct the alignment of upper and lower arches and correct deep bite and scissor bite in the premolar region on the left side.
In the clinical photos, it can be seen
1)  Deepbite more than 70%
2)  The mal-aligned upper and lower arch
3)  Scissor bite in premolars on left side
4)  Class I molar relation on both sides
5)  Class I canine relation on right side and end on the left side
6)  Negative buccal corridors
7)  Obtuse nasolabial angle
The treatment plan requested by the doctor was
1)  Correction of deep bite.
2)  To correct scissor bite.
3)  To align both arches
4)  To achieve Class I canine relation on the left side.
5)  To maintain the anterior-posterior (AP) relationship of molars on both sides and canine on the right side.
THE 1ST CLINCHECK PLAN WAS RECEIVED:
The clincheck was lacking as per doctor's preferences:
Simple instruction of the doctor which was to create space around upper 2s to match Bolton's discrepancy wasn't followed.
Midlines did not match the upper and lower arch.
The black triangle between upper central incisors.
Scissor bite not corrected.
Class I canine relation was not achieved.
Lower arch was not aligned
 No attempt to correct a crossbite.
1. The upper arch was aligned but there was no symmetry.
The doctor wasn't satisfied with the ClinCheck and decided to get it modified by the orthodontist at Aligner Concierge.
The orthodontist made the following changes in the case setup:
Corrected the upper and lower midlines to coincide.
Created space around upper 2s as per doctor's preference.
Matched the zeniths of upper teeth to create symmetry after build-ups hence adjusted vertical position accordingly.
Corrected crossbite
Achieved Class I canine and incorporated the use of elastics to achieve the same intraorally.
Broadened upper ach form to achieve symmetry and space for build-ups.
Aligned the lower arch fully to achieve correction of scissor bite
Added IPR as per Bolton's discrepancy.
The doctor was happy with the changes made in the clincheck and on receiving a new treatment plan he went ahead and approved it immediately. The above changes done by AlignerConcierge saved the clinical and personal time of the treating doctor.
Additional Aligners
AlignerConcierge also assisted with the refinement treatment plan.
The minor change in the number of aligners was made by reducing the number to half of what was suggested by Invisalign in their clincheck initially.
The treatment took 13 months to complete.