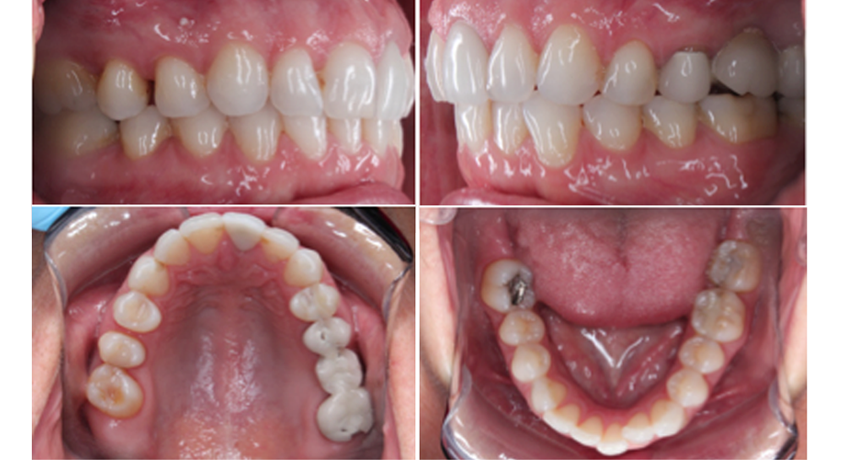 AlignerConcierge, we strive to modify treatment plans to achieve the best clinical results and in doing so, save the treating doctors time and resources. The below case demonstrates how we identified and rectified certain aspects of a ClinCheck that were missed by Align.
The chief complaint of Patient:
Space between the teeth on the upper right side is causing food lodgement.
Crowding with lower front teeth.
Doctor submitted this case to align with the following notes:
Align Lower arch
Upper Space closure
Improve the Canine & Molar relationship.
Do not move bridge with 25-26-27
Improve Overbite & Midline
1st Treatment Plan received:
Align has sent following notes along with plan:
*Your clinical preference indicated for space closure overcorrection aligners. However, due to the tight overjet in the final position, the overcorrection was not added in the upper because an anterior premature contact would be created.
*Notice that IPR was necessary in order to improve the midline as requested. Please review and advise.
*In order to improve the overjet, lower IPR was programmed.
The doctor was not satisfied with the 1st Treatment plan by Align because:
Space closure achieved without improving Canine Relationships.
IPR added did not provide any benefit.
1st Treatment plan had issues with overjet.
Black triangles between lower anterior teeth were not considered.
Power Ridges included in spite of Clinical preferences stating not to be used.
Black Triangles are removed. Power ridges removed.
We carried out the Retraction of anterior teeth to improve canine relation. Align had initially mesialised posterior teeth for space closure.
Class II elastics are given to achieve good intercuspation.
Horizontal Attachments with occlusal bevell are planned on lower premolar to provide leverage for Incisor intrusion.
Align had planned IPR to improve Overjet. However, we shifted IPR from the lower premolar region to Anterior teeth for removing the black triangle and to mesialize lower front teeth to achieve good class 1 intercuspation.
Power Ridges removed as per the doctor's clinical preferences. Lingual HBA attachments added to facilitate lingual root torque. Unnecessary IPR removed, only added to remove the black triangle and achieve tight contacts.
IPR added to remove Black Triangles and also aid in the mesial left quadrant shift.
Super-Imposition showing how the right side intercuspation is improved by retraction of canine and front teeth.
Black Triangle removed by adding IPR in lower front teeth.
Improved Canine relation on Left side Occlusal.
Occlusal Hindrance eliminated.
Both upper laterals were Incisally low than centrals. We positioned Laterals in such a way to keep it at 0—0.5 mm above central Incisally. Also, considered gingival zenith while planning the position of upper teeth.
Desired coinciding mid-lines were also achieved.
As demonstrated in the above case, we improved the treatment plan in order to get the maximum beneficial results without increasing the number of aligners or treatment duration and helping save resources at the doctor's end.