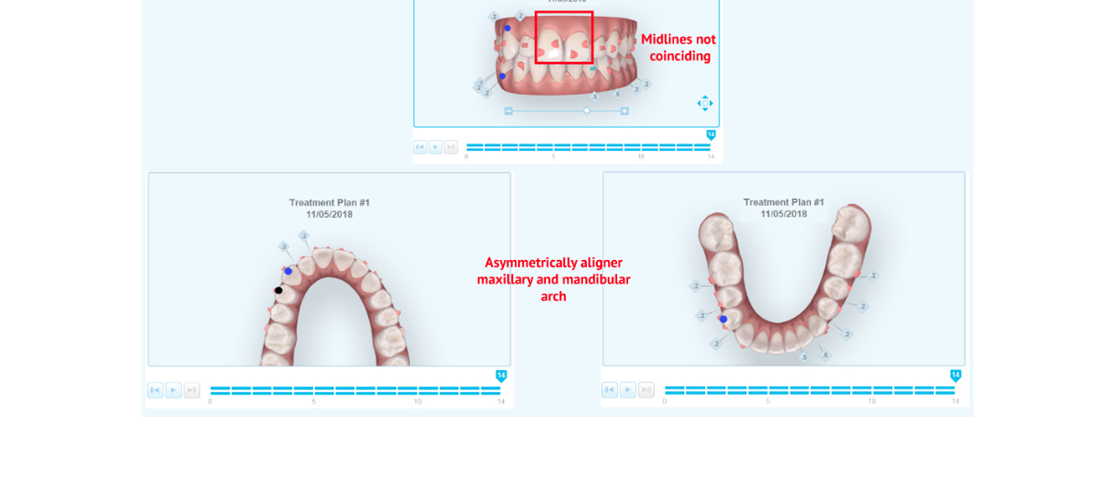 CASE MODIFICATION: WHY AND HOW?
The below case was submitted in the Lite category. As the Lite category provides only 14 aligners, the doctor's prescription suggested to achieve simple leveling/alignment, Class I canine relation, coinciding midlines along with coinciding the facial midline.
The clincheck provided by Invisalign at the end of the 14th stage was lacking the doctor's treatment goals. It was apparent that:
In the frontal view, the upper and lower midlines are not coinciding.

The upper arch is asymmetrical and not aligned.

The lower arch is also not well aligned.
At first glance, it's evident that this ClinCheck needs a lot of modification and cannot be approved. We took note of all these discrepancies, modified the clincheck as per the doctor's clinical preference.
Modifications were done by Orthodontist at Aligner Concierge
Alignment of upper and lower arch form.

Coordinate the lower arch with the upper arch

 Add/ remove IPR as per Bolton's discrepancy
     4. Achieving coinciding upper and lower midline
     5. Change of attachments
CHANGE OF ATTACHMENTS
We first determine the kind of tooth movement on each tooth and then decide if we need to add or modify the attachment previously provided by align.
Replacement of optimized attachments on upper lateral incisors to conventional HBAs on labial and palatal side for good control as laterals need more control due to their shape and size.
The new ClinCheck received was up to doctor's satisfaction. He did not have to spend his clinical time making any changes. All of that was done by his dedicated Orthodontist at Aligner Concierge as per his clinical preferences. It also reduced the to and fro communication between the doctor and technician hence reducing the time to approve and manufacture aligners.